WWII Workshop - VE Day Celebrations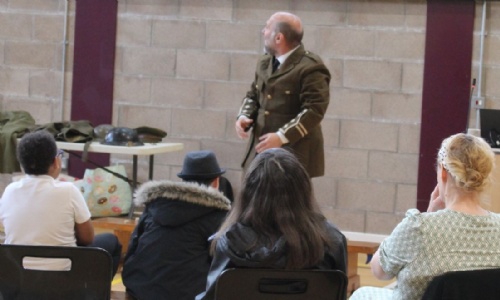 Students took part in a World War 2 workshop designed to give a real insight into the lives of soldiers, through drama, story telling and exploring objects. It also linked to exploring the lives of others and shone a light on the development of resilience and courage in the face of things that can frighten and worry us.
Private Samuel Barter, enabled classes to discover what everyday life was like for a conscripted soldier. They learnt about life on the front line, acted out daily routines and got to see and feel artefacts from the period. From the code-breaking women of Bletchley Park to the fighting Infantry soldiers both young and old from Britain and across the Commonwealth, children heard some of the individual stories of courage and sacrifice from those involved. They learnt what life was like during the Blitz and how children like them would have been evacuated to the countryside. It was an interactive workshop led by a professional actor who brought the history to life. As well as taking part in role-plays and listening to stories, the children learnt some songs that kept the spirit of wartime Britain alive.
Thank you so much to 'Private Samuel Barter' for visiting us and to everyone for participating in the day so fully. It has been wonderful to see all the different 1940s outfits worn by both students and staff. And, the street party food prepared by Mars class and our catering team, Mat and Thomas, was superb.